Studiedagen voor leden van EarlyBird
EarlyBird Master Class
Storytelling: Working within a story & beyond, door Katy Kelly
Op 1 november 2023 organiseren we voor onze leden de tweejaarlijkse EarlyBird Master Class. Dit keer met een feestelijk tintje: EarlyBird bestaat namelijk 20 jaar! De Master Class staat teken van storytelling en wordt gegeven door Katy Kelly. Je kunt naar de fysieke bijeenkomst in Utrecht komen of online deelnemen. Voor wie wil is er voorafgaand aan de Master Class een Guided CLIL walk though Utrecht.
Storytelling: Working within a story & beyond, door Katy Kelly
In this hands-on workshop we will explore the power of stories in our lives and the young learner classroom. We will examine the role stories have traditionally played in the English language young learner classroom and the importance of stories beyond language learning as a teaching tool. Through a series of interactive tasks and activities, we will explore how we can take a slightly different approach to using stories in class, which allows us to go within and beyond the traditional story teaching framework. At the end of our session, we will have gained a deeper understanding of the potential of stories, along with practical activities and tasks to take away and apply immediately in our classes.
Katy Kelly is a freelance teacher trainer and materials writer, specialising in early years and young learners. She has worked in the public bilingual sector and for private education providers, such as Pilgrims Teacher Training, the British Council, Cambridge University Press, International House, Nile and Bell English. She is a regular conference presenter and delivers webinars for publishers and British Council projects around the world. In her spare time Katy enjoys gardening and collecting coffee beans from around the world.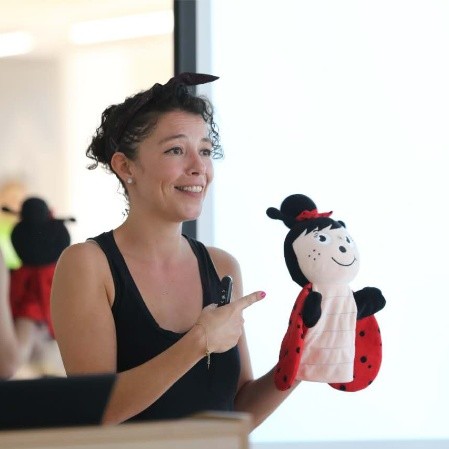 Kom naar de fysieke bijeenkomst in Utrecht of neem online deel.
De fysieke bijeenkomst vindt plaats in Cursus- en Vergadercentrum Domstad in Utrecht, op 10 minuutjes lopen van Utrecht Centraal Station. Het is ook mogelijk om online deel te nemen via Microsoft Teams.
Programma
| | |
| --- | --- |
| 14.00-14.30: | Inloop met koffie, thee en wat lekkers |
| 14.30-16.30: | Master Class Storytelling |
| 16.30-17.30: | Drankje en hapje |
Guided CLIL walk through Utrecht met Karel Philipsen
Voor wie wil is er voorafgaand aan de Master Class een Guided CLIL walk through Utrecht. Oud-directeur van EarlyBird Karel Philipsen neemt je mee door het centrum van Utrecht, de stad waar hij Aardrijkskunde studeerde. Tijdens de wandeling vertelt Karel over de stad vanuit historisch en geografisch perspectief. De start is om 12.45 op het Centraal Station (verzamelen om 12.30). De wandeling eindigt bij Domstad, waar de Master Class plaatsvindt.